> HOME
> OUR OFFICERS
> NEWS & EVENTS
> GET INVOLVED
> PHOTOS
Welcome

to the Garden
​ Ridge​ Lion's Club web site
Since 1917, Lions Clubs have offered people the opportunity to give something back to their communities.
The Garden Ridge Lions Club began its commitment to service over 40 years ago in 1973 and continues today by seeking out all forms of community need and developing ways to serve and satisfy those needs. We have the continued focus of meeting the commitment of all Lions adhering to the motto :

"WE SERVE"

.
​​
​
The Garden Ridge Lions Charities, Inc. directly supports individual children and families in need with our Thanksgiving and Christmas food baskets and toys at Christmas for children. We also work hand-in-hand with agencies and other non profit organizations. These include Lone Star Lions Eye Bank, Boy's State & Girl's State, Texas Lions Camp Counselor Scholarships, Texas Lions Camp and many other charitable organizations.
GARDEN
RIDGE LION'S CLUB
"... over 40 years of community service"
Membership is key! ​ Invite a friend, relative or neighbor to join our club!
​​​
Copyright © 2018, Garden Ridge Lions Club, All Rights Reserved
Garden Ridge Lions Charities, Inc.

is the charitable arm (501c3 Charity) of the Garden Ridge Lions Club.
Charter -
Donations


​​
Upcoming Volunteer Opportunities:​​
​
"Where there is a need, there is a Lion"

​​​
​Listen to Lion Mark Frye on Military Radio USA every Saturday from 8 to 9 a.m. on KLUP 930 AM The Answer Featuring mission and organization focused shows, you will receive Garden Ridge Lion event info. Click here for the website


​​


Congratulations to Tara Brown.
Garden Ridge Lion's newest member.

Amanda Hagy is the sponsor. Dave Heier presided the January 23rd General Membership Dinner event.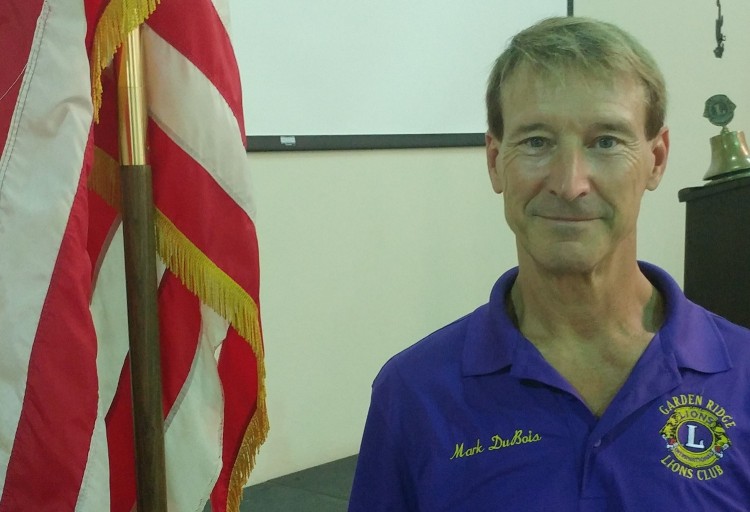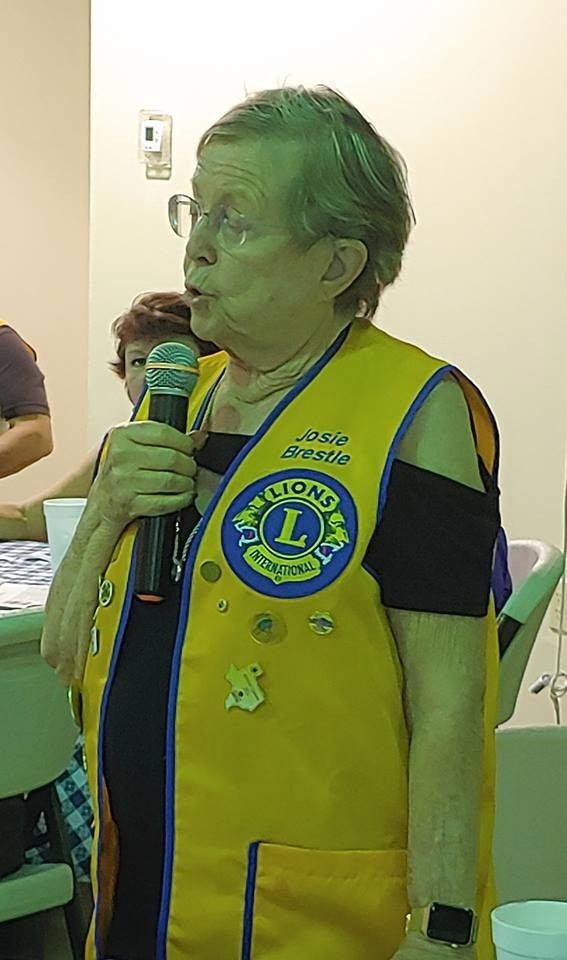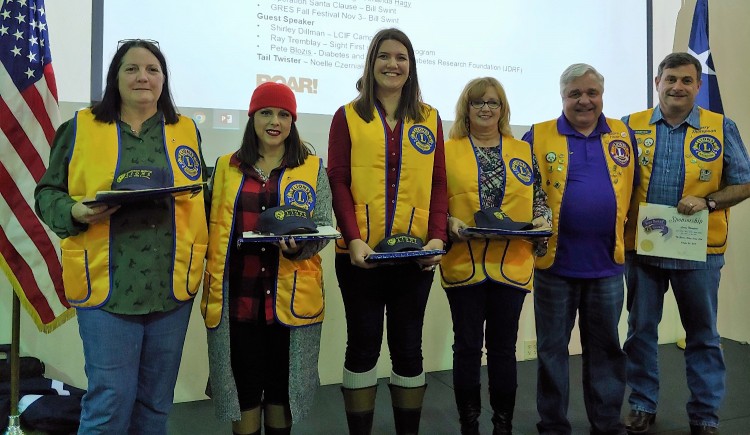 Congratulations to the four new Garden Ridge Lion members (L to R) Ginger Ann Stiehler, Angela R. Shaner, Jennifer S. Weber and Marva Lynn Shelton.

Lion Hunter Dave Heier presided over the October 24, 2018 induction event and Larry Thompson was the sponsor for all four inductees.
Congratulations to three of our newer ​Garden Ridge Lion's members. Ken Weber, Jason Weber and Rick Shelton.

Larry Thompson was the sponsor with David Heier presiding over the November 14th induction event.
Dates are Saturday, April 6th & May 4th. Workdays start at 7:30am, breakfast & lunch provided. Work details commence at 8:00am til noon. Club members will leave Garden Ridge around 6:00am, travel by car pool and arrive in Kerrville. Click here for more informationCall 210-651-7431 or 210-845-9356 email:

rehhardwood@earthlink.net

.

​



Annual Lions Camp Clean-up at the Texas Lions Camp

(TLC) in Kerrville:

TLC holds a series of work days to clean up the Camp from winter and prepare it for summer.
The Garden Ridge Lions are always looking to recruit good men and women with serving hearts and a special passion to help those in need. ​​ Our meetings are on the 2nd and 4th Wednesday of each month 7:00PM at the Garden Ridge Community Center at 9500 Municipal Parkway. March 13th Guest Speaker Adrienne Cox – Chief Operating Officer, Port San Antonio Click here to download Adrienne's bio.

The Garden Ridge Valentine's Dinner

was held
Wednesday, February 13, 2019. During the event, Victoria Speakmon was presented a Certificate of Appreciation by Amanda Hagy and Bill Swint for her work to provide hygiene kits during Operation Santa Claus.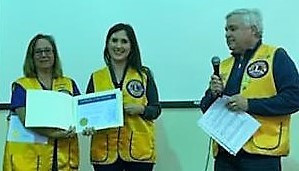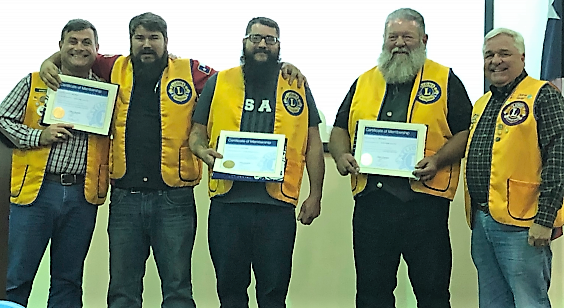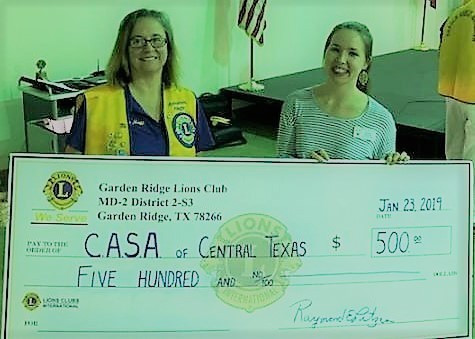 Court Appointed Special Advocates (CASA) Executive Director Norma Blackwell accepts a $500 check from the Garden Ridge Lions Amanda Hagy. The mission of CASA is to recruit, train, and supervise court-appointed volunteer advocates who provide constancy for abused and neglected children and youth while advocating for services and placement in safe and permanent homes.
The Garden Ridge Lions presented a $500 check to Homes For Our Troops (HFOT)
during the kickoff of the construction of a new custom home in Garden Ridge for injured veteran Army SGT Lisa Marie Wiley.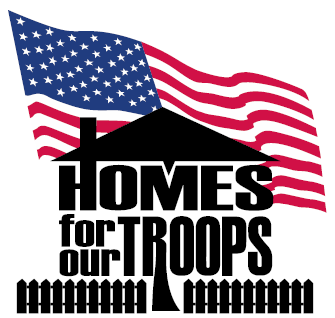 Garden Ridge Lions Ray Pitzen and Jim Newbold present a check for $7,200 for our annual 1,000% donation to Trish Wilson and the Texas Lions Camp.
The total donated in 2019 is $8,000.00. The Garden Ridge Lions Club also presented the Texas Lions Camp with a $3,000.00 donation to their Endowment CAMPaign for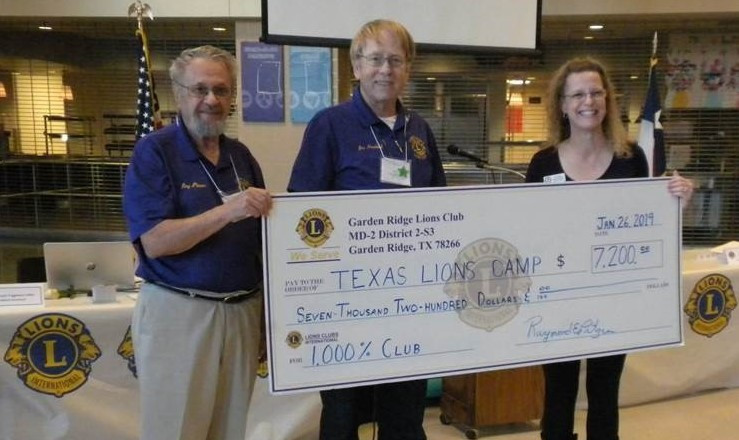 The Garden Ridge Lions donated $500 to"Today's Promise for Tomorrow's Children" Annual Harry Wickersham Charity Golf Tournament
sponsoring five holes of golf. Other monies donated were $500 to the Texas Lions Camp Golf Tourney and Lion Ray Pitzen presented a $1,000.00 check to the Lone Star Lions Eye Bank.
Garden Ride Lions make a $2000 donation to Hope Hospice.
Jim Newbold presents a $2,000 check to Nickie Drummond, Executive Director and Laura Hargraves, Accounts Receivables with HOPE Hospice of New Braunfels, 1/29. Hope Hospice provides exemplary care, comfort and education to all affected by life-limiting illness, grief and loss.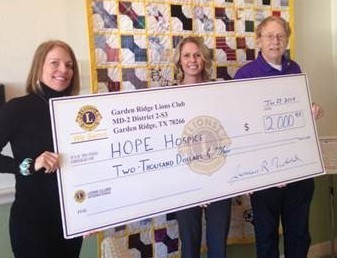 Donate used glasses
(including reading & sunglasses); sorry no contact lenses), place them in the Lions Recycle for Sight collection box found in the Garden Ridge Library - 9400 Municipal Pkwy. Donated glasses are shipped to a Lions Eyeglass Recycling Center where volunteers sort, clean and determine the glasses prescription strength. After carefully packaging the refurbished spectacles, they are stored until they can be distributed, usually through humanitarian missions to developing nations.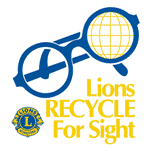 Each year, the Garden Ridge Lions present scholarships to 12 deserving High School students.
All scholarship applications should be returned to Laura Ochoa (email: lochoa5@satx.rr.com or mail: 21329 Waterwood Dr. Garden Ridge, TX 78266) no later than March 15, 2019. Click here to download the 2019 Scholarship Application.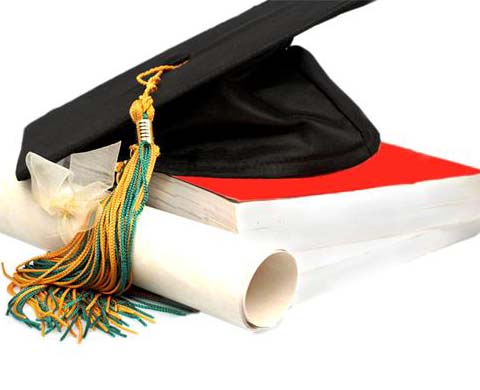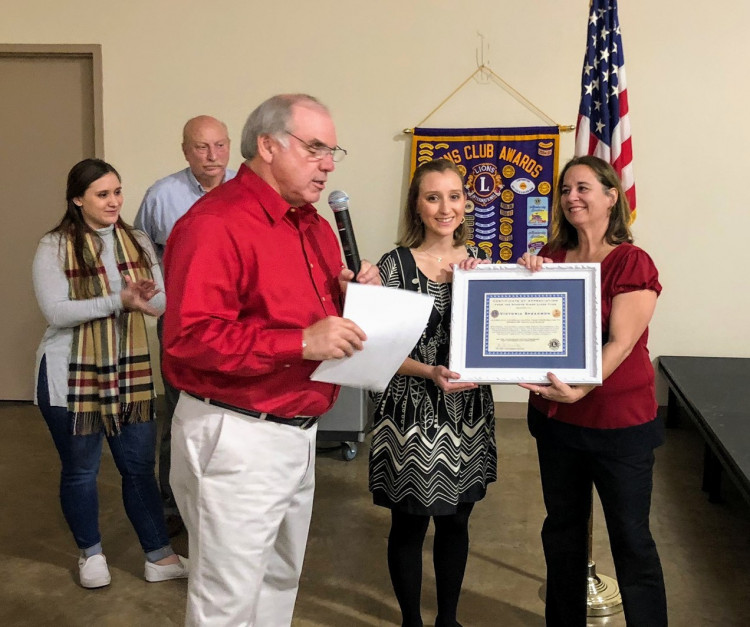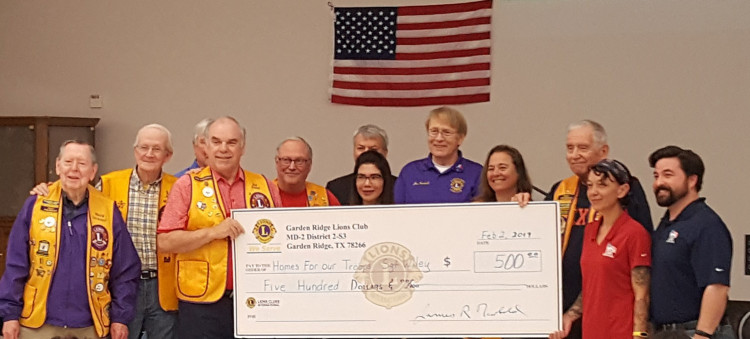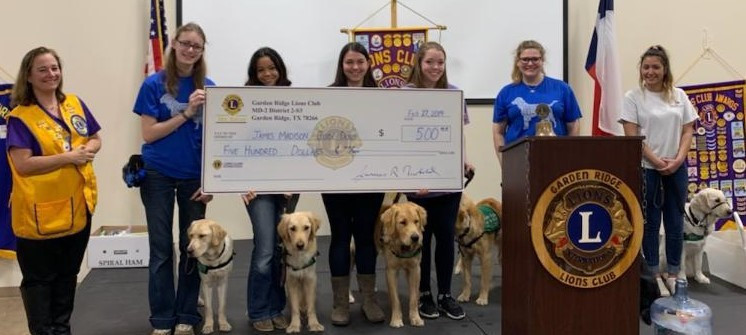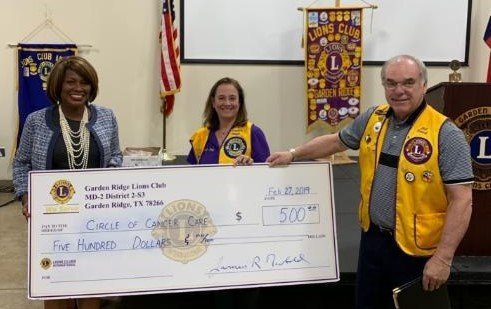 The Garden Ridge Lions presented a $500 check to Rita Ambrosia for Circle of Cancer Care in support of their annual Rita's 5K Run/Walk fundraiser on Saturday, April 27, 2019 at Paul Davis Park.

Circle of Cancer Care supports female cancer fighters living in Cibolo, Schertz, New Braunfels, Garden Ridge, and surrounding areas. Click here for all the details
The Garden Ridge Lions presented a $500 check to the James Madison FFA Guide Dogs for the Blind.
These dogs are being trained by volunteers to become working guides for blind or visually impaired. Click here for all the details
5th Annual Garden Ridge Open Car Show
benefiting the Garden Ridge Poice Dept. and Comal County 100 Club (Saturday, April 13, 2019) are looking for volunteers. If interested, contact Jim Morgan 210-248-9744