> HOME
> OUR OFFICERS
> NEWS & EVENTS
> GET INVOLVED
> PHOTOS
Welcome

to the Garden
​ Ridge​ Lion's Club web site
Since 1917, Lions Clubs have offered people the opportunity to give something back to their communities.
The Garden Ridge Lions Club began its commitment to service over 40 years ago in 1973 and continues today by seeking out all forms of community need and developing ways to serve and satisfy those needs. We have the continued focus of meeting the commitment of all Lions adhering to the motto :

"WE SERVE"

.
​​
​
The Garden Ridge Lions Charities, Inc. directly supports individual children and families in need with our Thanksgiving and Christmas food baskets and toys at Christmas for children. We also work hand-in-hand with agencies and other non profit organizations. These include Lone Star Lions Eye Bank, Boy's State & Girl's State, Texas Lions Camp Counselor Scholarships, Texas Lions Camp and many other charitable organizations.
GARDEN
RIDGE LION'S CLUB
"... over 40 years of community service"
Membership is key! ​ Invite a friend, relative or neighbor to join our club!
​​​
Copyright © 2018, Garden Ridge Lions Club, All Rights Reserved
Garden Ridge Lions Charities, Inc.

is the charitable arm (501c3 Charity) of the Garden Ridge Lions Club.
Charter -
Donations


​​
Upcoming Volunteer Opportunities:​​
​
"Where there is a need, there is a Lion"

​​​
​Listen to Lion Mark Frye on Military Radio USA every Saturday from 8 to 9 a.m. on KLUP 930 AM The Answer Featuring mission and organization focused shows, you will receive Garden Ridge Lion event info. Click here for the website


​​


Congratulations to Virginia "Ginny" Batchler.
Garden Ridge Lion's newest member. Ray Pitzen is the sponsor. Bill Foote presided the July 25th event.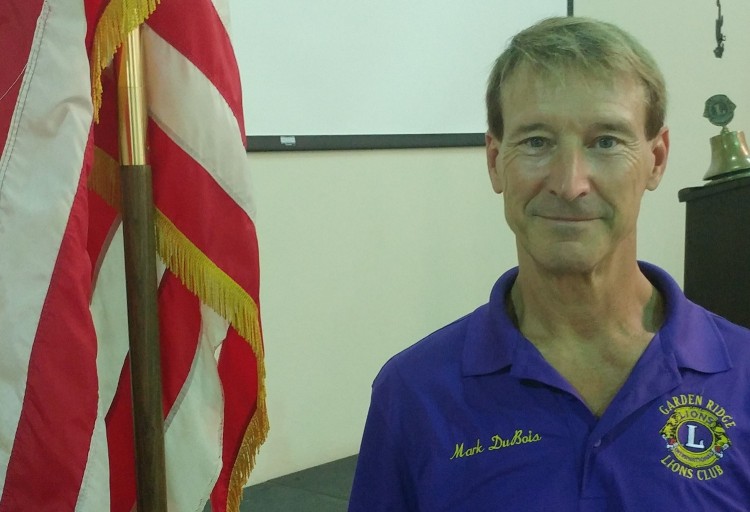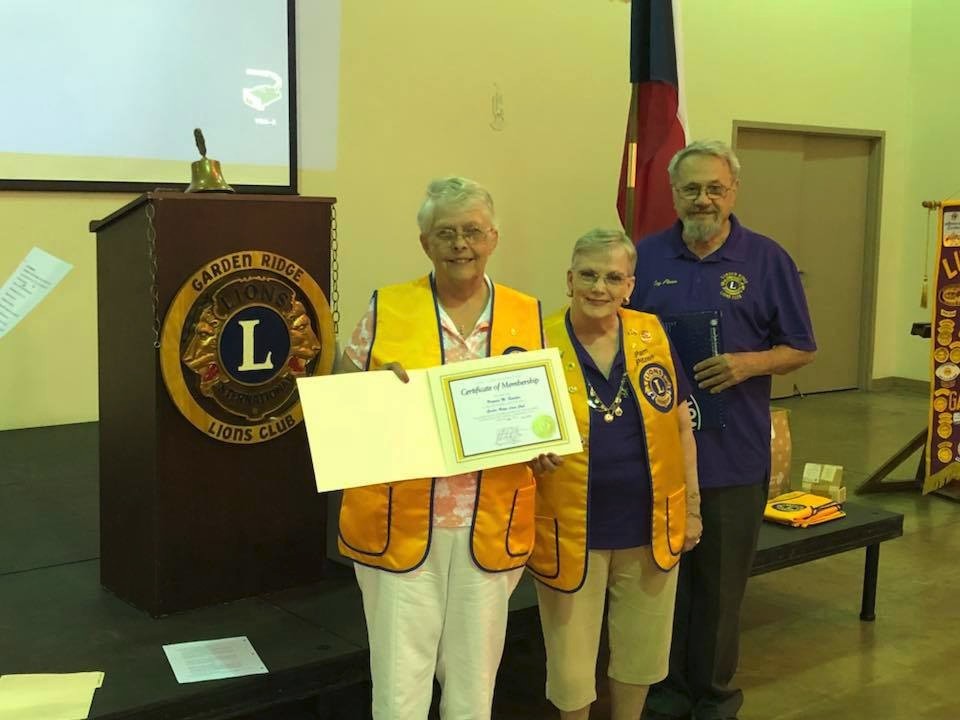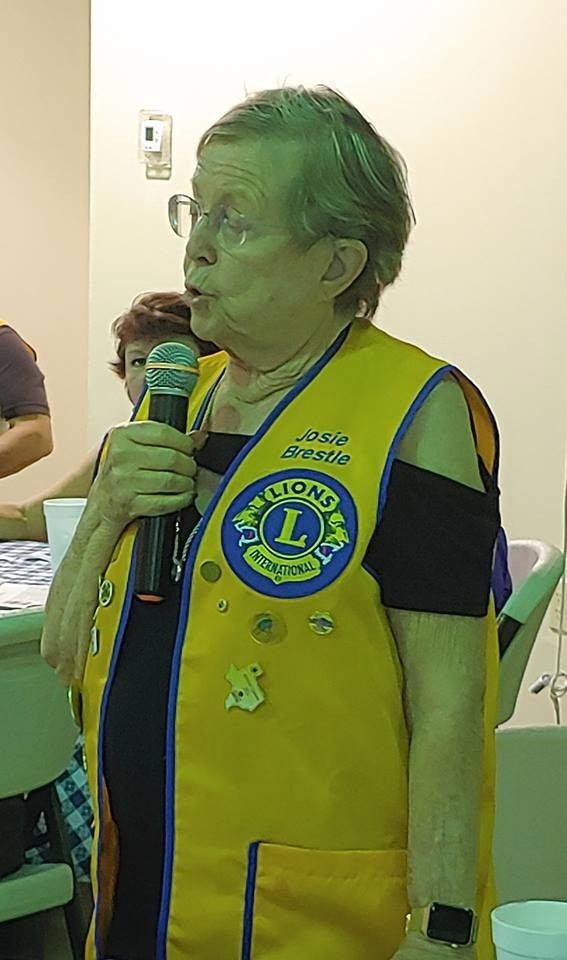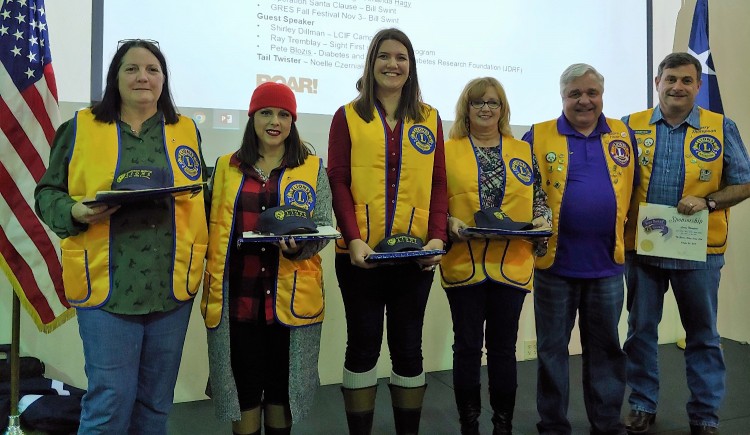 Congratulations to the four newest Garden Ridge Lion members (L to R) Ginger Ann Stiehler, Angela R. Shaner, Jennifer S. Weber and Marva Lynn Shelton.

Lion Hunter Dave Heier presided over the October 24, 2018 induction event and Larry Thompson was the sponsor for all four inductees.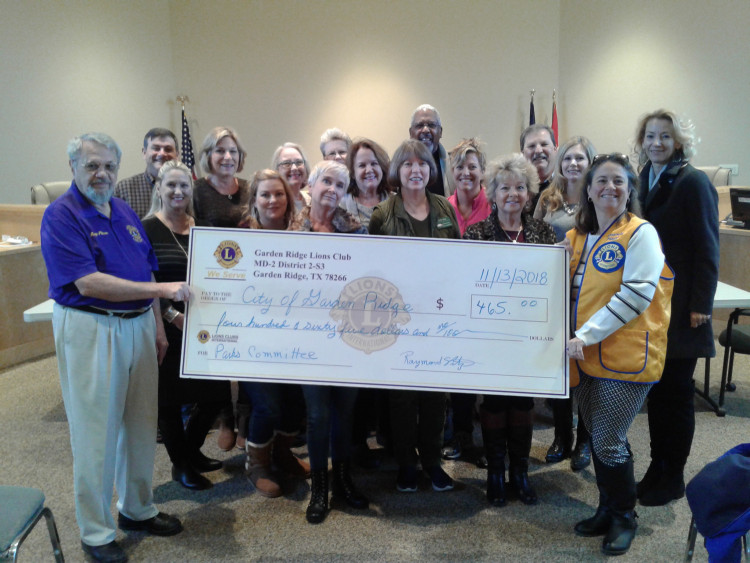 Lions Amanda Hagy and Ray Pitzen presented the $465 check to the Garden Ridge Parks Committee on Nov. 13th

. The city will purchase 200 ornaments for $465. We will ask for a $5 donation for each ornament. All proceeds will be contributed directly to the Comal County Crisis Center. Last year we purchased 100 ornaments for $235 (asking for a donation of $10 for each) and our net proceeds were $1200.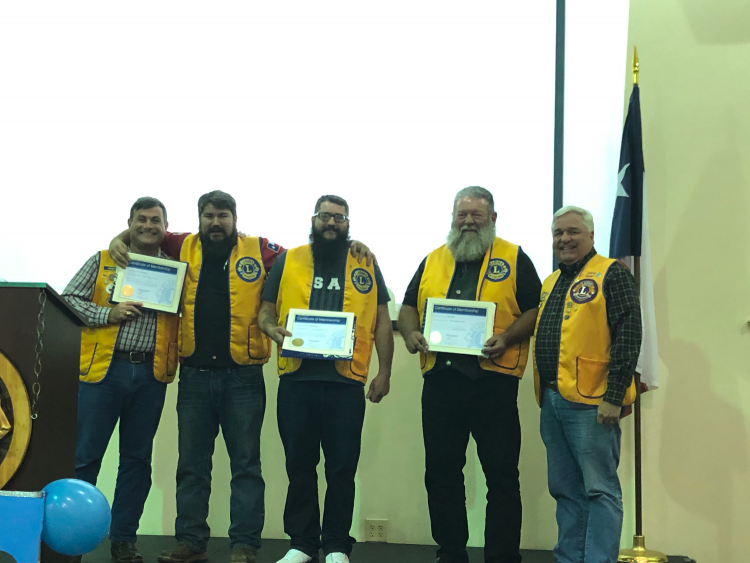 Congratulations to ​Garden Ridge Lion's newest members. Ken Weber, Jason Weber and Rick Shelton.

Larry Thompson was the sponsor with David Heier presiding over the November 14th induction event.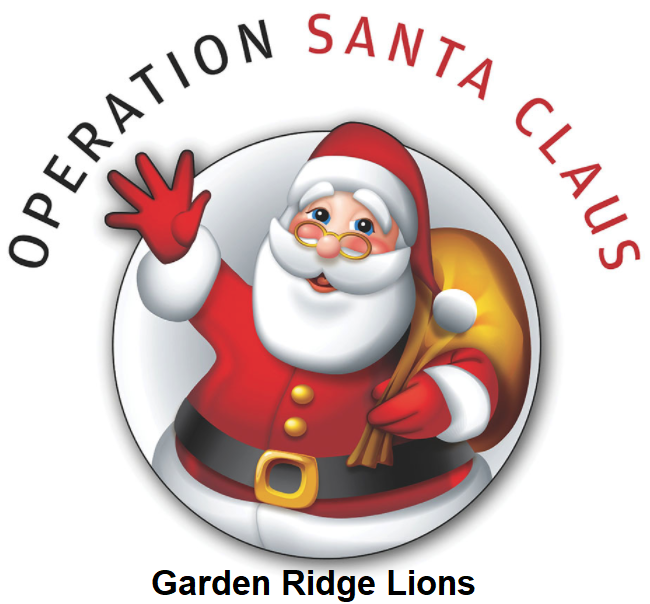 The Garden Ridge Lions
Annual Christmas Dinner

was held December 12th. The evening was filled with Holiday spirit, good food, ending with a Christmas performance by Canyon High School Chorale Group. A BIG thanks to
​
Dick Vogt, event coordinator again this year, for all the work to make this a successful event.
Garden Ridge Lions - Hearing Testing:

Thirty One Garden Ridge Lions and volunteers participated in the hearing testing of over 6000 students in 30 schools in the Comel County and New Braunfels Independent School Districts. My sincere thanks to everyone involved in support of this effort to identify and correct any childhood hearing problems. I hope each of you enjoyed working with our young future leaders as much as I did. I look forward to working with all of you again next year. Dick Holloway
Another Operation Santa Clause in the books. I want to thank our Lions membership for making this Christmas season a memorable one for 50 families. It takes a team to make a difference in these families lives and I thank you all for your efforts. Merry Christmas. Event coordinator, Bill Swint

Garden Ridge Lions Annual Operation Thanksgiving.
Thanks to the efforts of all the volunteers, this years event was another success. Boxes filled with everything to need for a Thanksgiving feast were delivered to more than 25 families in need within Garden Ridge and the surrounding areas. Again, THANK YOU. Amanda Hagy event coordinator.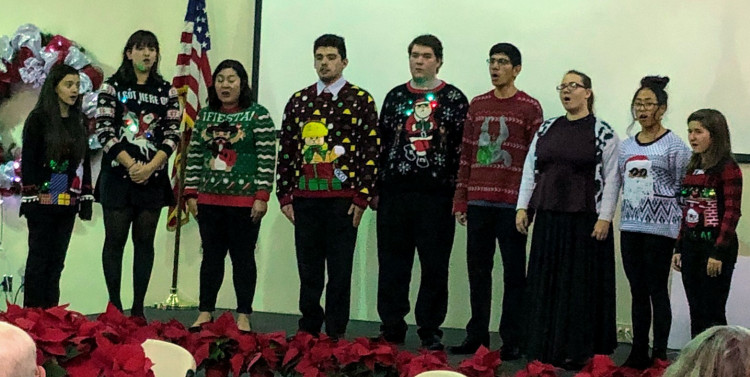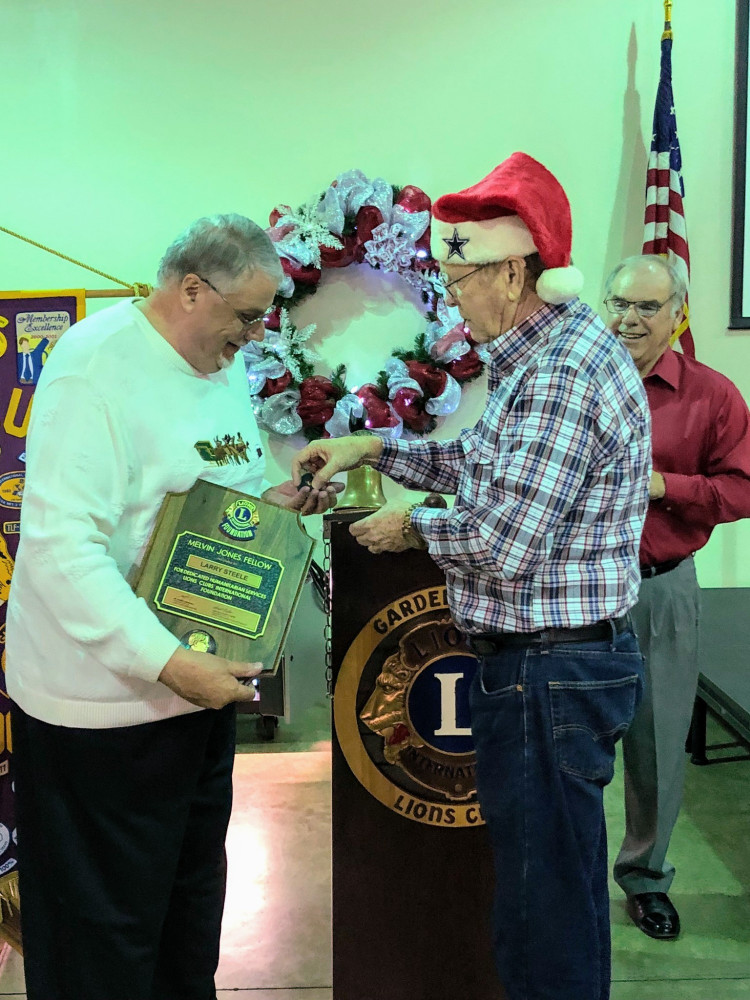 Larry Steele was awarded o

ne of the highest forms of recognition with the Melvin Jones Fellowship Award during the Christmas Dinner Dec 12th. This award is selected by the club and a donation was made in that members name to Lions Clubs International Foundation in order to continue the humanitarian work of Lions.


In the photo below, Larry looks on as Pat Steele is awarded a Certificate of Appreciation​​ by Nancy Bell.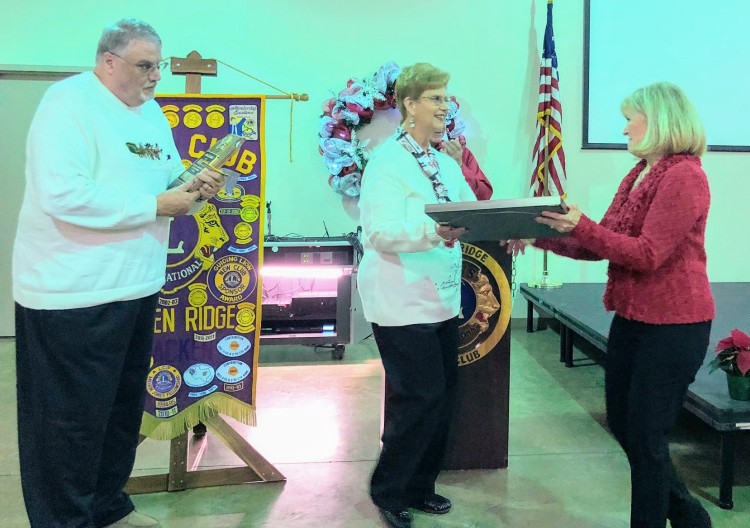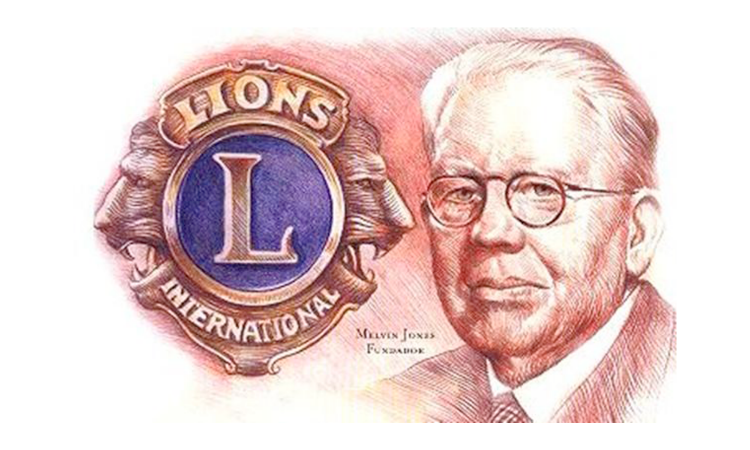 winter and prepare it for summer operation. This year the work days will be held on Saturday, March 2nd, Saturday, April 6th, and Saturday, May 4th. Each workday starts at 7:30 am with a breakfast provided by a Lions Club. Work details on various projects commence at 8:00 am and last until 12:00 noon at which time lunch is served. If necessary work continues after lunch, but in most cases our work projects have been completed by lunch. Club members will leave Garden Ridge around 6:00 am, travel by car pool and arrive Kerrville in time for breakfast. Click here for more information



ACTION:

Consider participating in this effort on one or more work days that you want to work - call

210- 651-7431

or

210-845-9356

or email:

rehhardwood@earthlink.net

.

​Spouses and family members are welcome Regards Dick Holloway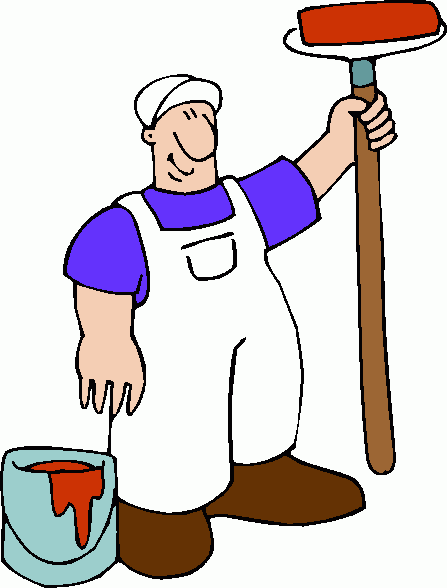 Annual Lions Camp Clean-up at the Texas Lions Camp

(TLC) in Kerrville:

TLC holds a series of work days to clean up the Camp from
Road Clean-up:
Once again it is time for a road clean up. I am proposing Friday, Feb 1 or Saturday, Feb 2. We need at least 12 Lions for a successful clean up. Please respond if you can participate on either day. The first day we get to 12 will be the day for clean up.

​E
​mail:

drheier1@gmail.com
or call 210-561-4255. Thanks Dave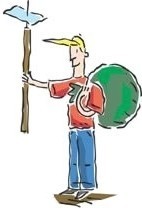 The Garden Ridge Lions are always looking to recruit good men and women with serving hearts and a special passion to help those in need. ​​ Our meetings are on the 2nd and 4th Wednesday of each month 7:00PM at the Garden Ridge Community Center at 9500 Municipal Parkway.