> HOME
> OUR OFFICERS
> NEWS & EVENTS
> GET INVOLVED
> PHOTOS
Welcome

to the Garden
​ Ridge​ Lion's Club web site
Since 1917, Lions Clubs have offered people the opportunity to give something back to their communities.
The Garden Ridge Lions Club began its commitment to service over 40 years ago in 1973 and continues today by seeking out all forms of community need and developing ways to serve and satisfy those needs. We have the continued focus of meeting the commitment of all Lions adhering to the motto :

"WE SERVE"

.
​​
​
The Garden Ridge Lions Charities, Inc. directly supports individual children and families in need with our Thanksgiving and Christmas food baskets and toys at Christmas for children. We also work hand-in-hand with agencies and other non profit organizations. These include Lone Star Lions Eye Bank, Boy's State & Girl's State, Texas Lions Camp Counselor Scholarships, Texas Lions Camp and many other charitable organizations.
GARDEN
RIDGE LION'S CLUB
"... over 40 years of community service"
Membership is key! ​ Invite a friend, relative or neighbor to join our club!
​​​
Copyright © 2018, Garden Ridge Lions Club, All Rights Reserved
Garden Ridge Lions Charities, Inc.

is the charitable arm (501c3 Charity) of the Garden Ridge Lions Club.
Charter -
Donations


​​
Upcoming Volunteer Opportunities:​​
​
"Where there is a need, there is a Lion"
​​​
​Listen to Lion Mark Frye on Military Radio USA every Saturday from 8 to 9 a.m. on KLUP 930 AM The Answer Featuring mission and organization focused shows, you will receive Garden Ridge Lion event info. Click here for the website
​​

Congratulations to Tara Brown.
One of Garden Ridge Lions newest me

mber.

Amanda Hagy is the sponsor. Dave Heier presided over the Jan. 23rd induction.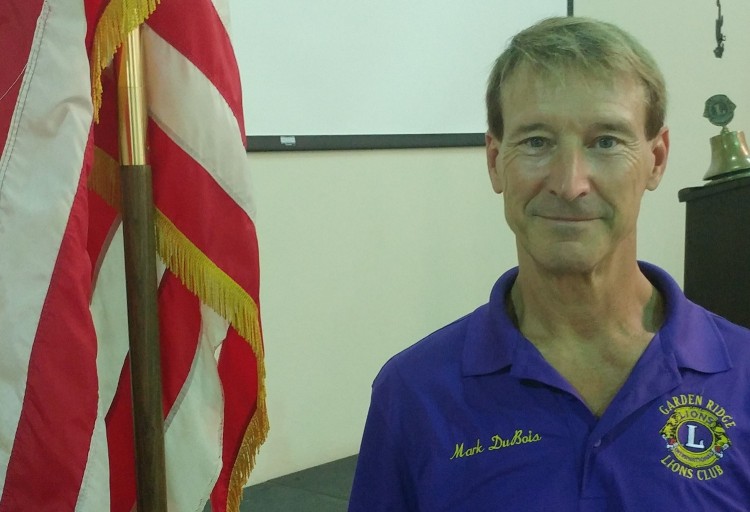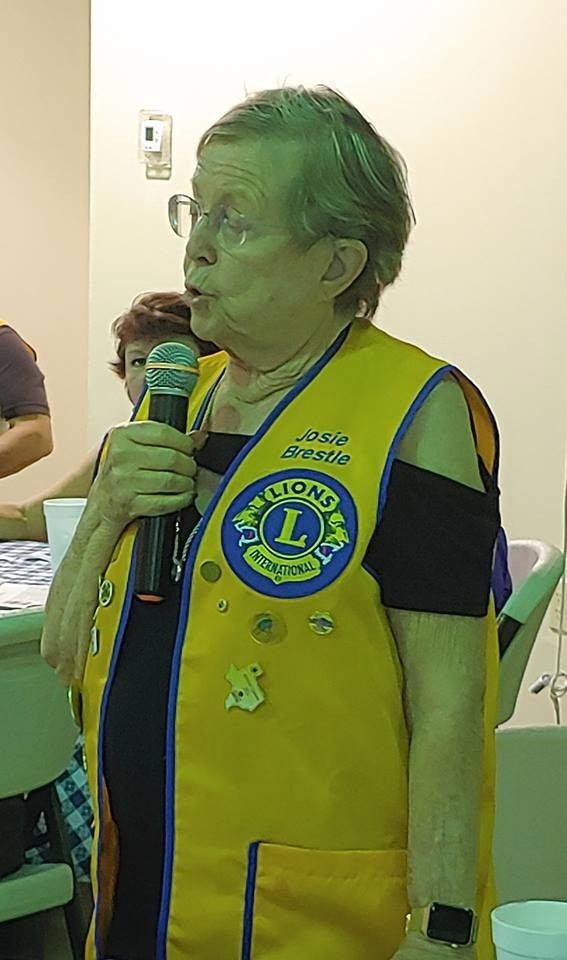 Congratulations to three of our newer ​Garden Ridge Lion's members. Ken Weber, Jason Weber and Rick Shelton.

Larry Thompson was the sponsor with David Heier presiding over the Nov.14th induction.

------------------------------------------------------------​
​Physical Disabilities summer camp. We will need 10-12 Lions but will take as many Lions, Leos, family members or friends that want to go and enjoy the fun and experience. We serve at the picnic pavilion starting at 5:30. Chick-Fil-A will deliver the food on site. If you would like to volunteer contact John Mitzel: E-mail:

johnmitzel1@gmail.com

call 210-632-9394. Click here for additional information

​



Thursday Night Camp-out Dinner at the Texas Lions Camp

(TLC) in Kerrville

on June 6

The Garden Ridge Lions will be hosting a Camp-out Dinner for kids & staff in the first
The Garden Ridge Lions are always looking to recruit good men and women with serving hearts and a special passion to help those in need. ​​ Our meetings are on the 2nd and 4th Wednesday of each month 7:00PM at the Garden Ridge Community Center at 9500 Municipal Parkway.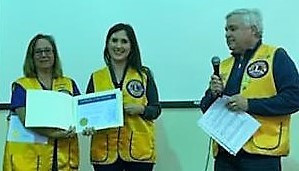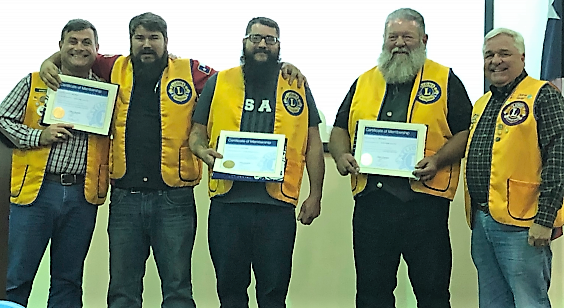 Ridge Library - 9400 Municipal Parkway Donated glasses are shipped to a Lions Eyeglass Recycling Center where volunteers sort, clean and determine the glasses prescription strength. After packaging the refurbished spectacles are stored until they can be distributed, usually through humanitarian missions to developing nations.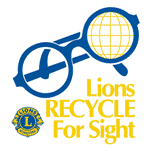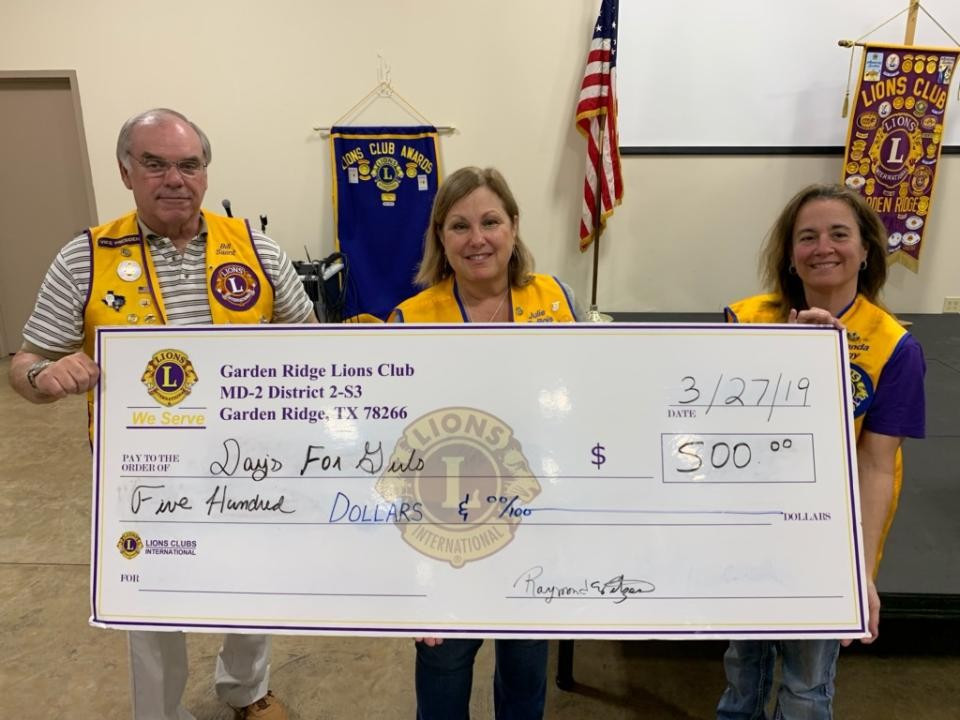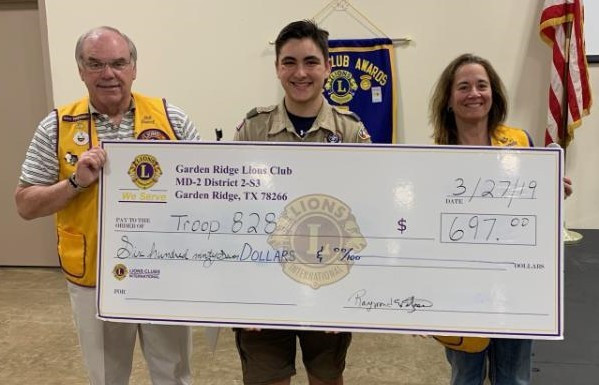 The Garden Ridge Lions presented a $500 check to Julie DuBois chairperson for the Garden Ridge Day's For Girls (DFG) chapter.
DFG is a global movement that prepares and distributes sustainable menstrual health solutions to girls who would otherwise miss school or work during their monthly periods. The nonprofit organization was founded in 2008 by American woman Celeste Mergens.
Lions Bill Swint and Amanda Hagy presented the check.
The Garden Ridge Lions presented a $697 check to Jake Hogue in support of the Bat Cave Boy Scout Eagle project

to clean-up the trails and add 40 benches on the trails including at the viewing entrance to the Bracken Bat Cave near Garden Ridge. Lions Bill Swint and Amanda Hagy presented the check at the March 27th membership meeting.
Congratulations to Melinda Cruz-Balderas. Garden Ridge Lions newest member.
Dave Heier presided the March 13 General Membership Dinner event. Sponsor is Jennifer Weber (with daughter).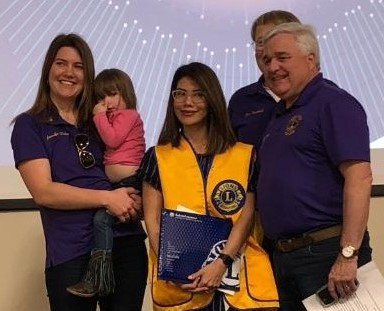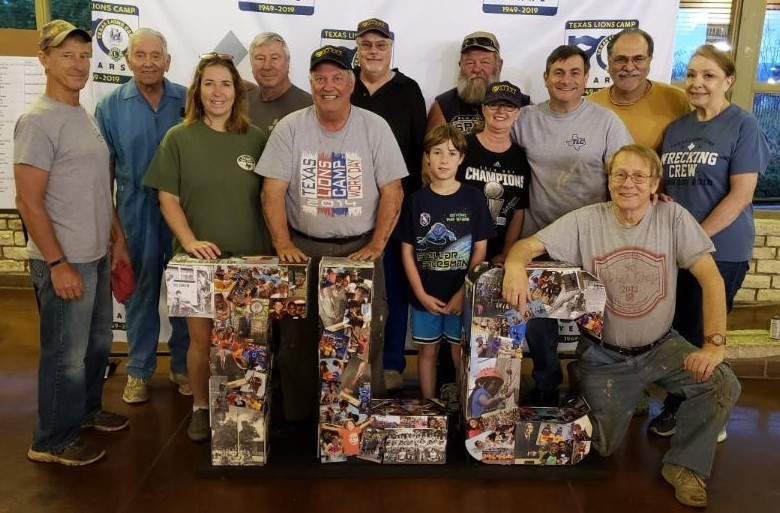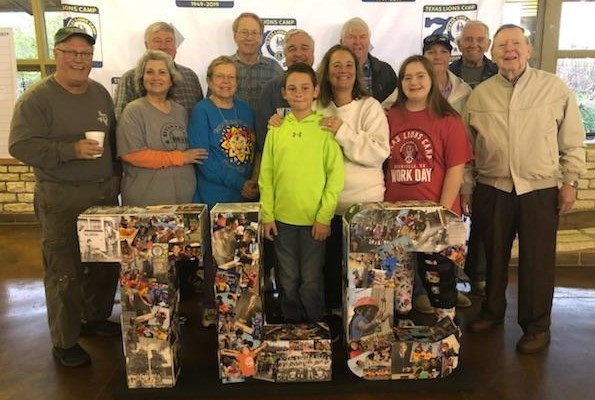 THANKS to the Garden Ridge Lions, and families who volunteered for the March, April & May Clean-up at the Texas Lions Camp (TLC)

in Kerrville: TLC holds a series of work days to clean up the Camp from winter and prepare it for summer.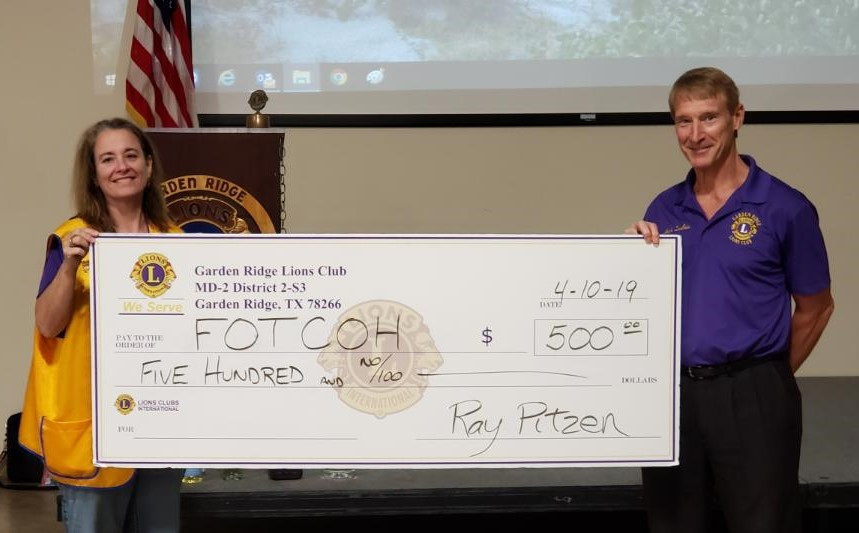 Mark DuBois accepts a donation from the Garden Ridge Lions in the amount of $500 for the Friends of the Children of Haiti (FOTCOH)
Amanda Hagy presented the check. FOTCOH provides life-saving support to over 15,000 Haitian patients every year treating injuries, illness, offer prenatal care, surgery, and nutritional support. FOTCOH creates economic opportunity by training and employing a Haitian staff. https://fotcoh.org/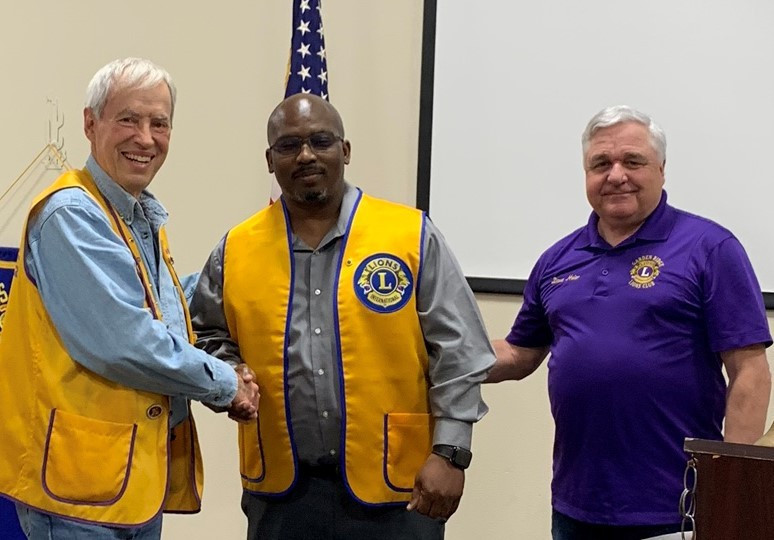 Congratulations to Dr. Allen Ray Wiliams. Garden Ridge Lions newest member.
Dave Heier presided the April 24th induction with Donald Schaezler, Sponsor, on the left.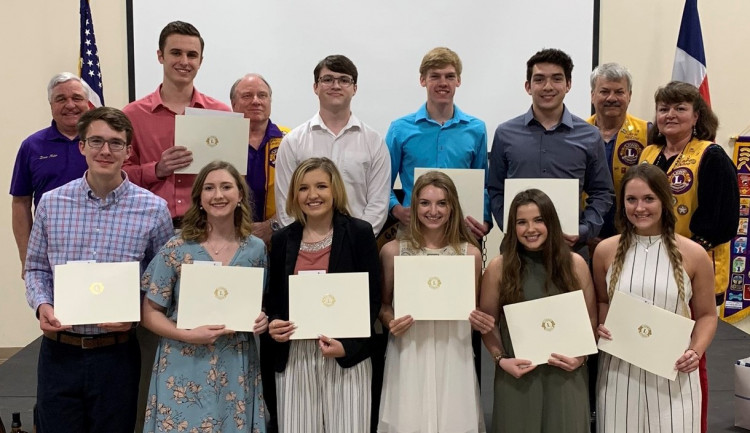 The Garden Ridge Lions presented $1000 scholarships to 12 deserving HS students.
Laura Ochoa, led the selection committee including Dave Heier, John McCaw and Kerry Ledford. Click here for all the deserving recipients that received the 2019 scholarship award.
DONATE USED GLASSES

Including reading/sunglasses; (sorry no contact lenses), place them in the Lions Recycle for Sight collection box found in the Garden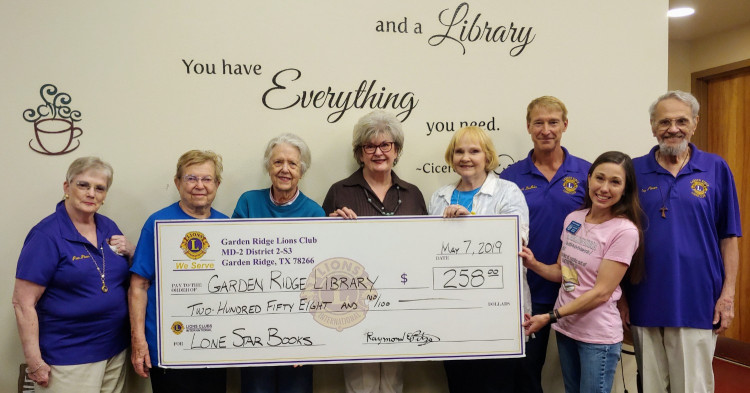 The Garden Ridge Lions presented a check for $258 to the Garden Ridge Library's Lone Star Book collection.
This program is developed by Texas public and school librarians from the Young Adult Round Table. The purpose of the Lone Star book list is to encourage students in grades 6, 7, or 8 to explore a variety of

current books. Titles are chosen for both quality and appeal to young people. In the photo from L to R are Lion Pam Pitzen, Lion Josie Brestle, Library volunteer Nancy Feibelman, Library volunteer Linda Morgan, Library Director Linda Crosland, Lion Mark DuBois, Assistant Librarian Wendy Bippert and Lion Ray Pitzen.
The Grace Preparatory Academy Leo's Club, sponsored by the Garden Ridge Lions Club, was inducted May 8th.
My sincere thanks to both Amanda Hagy and Tara Brown for their efforts in chartering this Leo Club which is a huge milestone in the rich history of the Garden Ridge Lions Club. Click here for all the details and Leo names.

My sincere thanks to the lions and volunteers who helped complete the Paul Davis embankment project May 21st.

By adding 240 pavers, the play area embankment is now high enough to keep the top soil from flowing onto the playground when it rains. Thanks Jim Newbold, Jay Millikin, Randy Maschek, Dick Holloway, Dave Heier, Laura Ochoa, Mark Meyers, Amanda Hagy plus two sons and City personnel
Dick Holloway: Email:

rehhardwood@earthlink.net

or call 210-651-7431.



A Boys State Orientation was held at the American Legion Post 179 in New Braunfels on May 13, 2019
. Four John Paul II High School Juniors were selected by the Garden Ridge Lions Club to attend the 2019 session of Boys
State. Boys State is among the most respected and selective educational programs of government instruction for high school students. Click here for a the rest of the story....


​From Left to Right: Garden Ridge Lion's Boys State Chair, Lion John Mitzel; John Paul II HS Juniors Brady Sullivan, Shane Scott, Joseph Kapvik and Marcello Brownsberger; and Garden Ridge Lions Secretary Jim Newbold.