> HOME
> OUR OFFICERS
> NEWS & EVENTS
> GET INVOLVED
> PHOTOS
Welcome

to the Garden
​ Ridge​ Lion's Club web site
Since 1917, Lions Clubs have offered people the opportunity to give something back to their communities.
The Garden Ridge Lions Club began its commitment to service over 40 years ago in 1973 and continues today by seeking out all forms of community need and developing ways to serve and satisfy those needs. We have the continued focus of meeting the commitment of all Lions adhering to the motto :

"WE SERVE".
​​
​
The Garden Ridge Lions Charities, Inc. directly supports individual children and families in need with our Thanksgiving and Christmas food baskets and toys at Christmas for children. We also work hand-in-hand with agencies and other non profit organizations. These include Lone Star Lions Eye Bank, Boy's State & Girl's State, Texas Lions Camp Counselor Scholarships, Texas Lions Camp and many other charitable organizations.
​Come and join us....
The Garden Ridge Lions Club is always looking to recruit good men and women with serving hearts and a special passion to help those in need. ​​The club meets on the 2nd and 4th Wednesdays of the month, 7:00 PM at The Club at Garden Ridge, 21320 Water Wood, Garden Ridge, Texas.
Our next Garden Ridge Lions meeting is

Wednesday, May 9th.
​​

GARDEN
RIDGE LION'S CLUB
"... over 40 years of community service"
Membership is key! ​ Invite a friend, relative or neighbor to join our club!
​​​
Copyright © 2007, Garden Ridge Lions Club, All Rights Reserved
Garden Ridge Lions Charities, Inc.

is the charitable arm (501c3 Charity) of the Garden Ridge Lions Club.
Charter -
Donations


​​
Upcoming Volunteer Opportunities:​​
​
"Where there is a need, there is a Lion"
​​​
​Listen to Lion Mark Frye on Military Radio USA every Saturday from 8 to 9 a.m. on KLUP 930 AM The Answer Featuring mission and organization focused shows, you will receive Garden Ridge Lion event info. Click here for the website
​​
Donate used glasses

(including sunglasses & reading glasses; sorry no contact lenses), place them in the specially marked Lions Recycle for Sight collection box found at the Garden Ridge Library - 9400 Municipal Pkwy. Click here for additional information

​​

Congratulations to George Chambers
Garden Ridge Lion's newest member. Jim Morgan is the sponsor with Joe Britan presiding over the April 25, 2017 induction event.
Congratulations to Jim and Linda Morgan.
Jim Morgan was presented with the Melvin Jones Fellowship Award, by President John Mitzel. This award is the highest form of recognition and embodies humanitarian ideas consistent with the nature and purpose of Lionism. Jim's wife Linda also received a Certificate of Appreciation for her service and support making Jim's lasting contributions possible to the Garden Ridge Lions Club. Jay Fiebelman presented the award to Linda.

Congratulations to Cheryl Banda.
One of
Garden Ridge Lion's newest members. Mandy Hagy sponsor and Lion Hunter Bill Foote presiding over the Nov 2017 presentation. Jim Newbold looks on.
Congratulations to Cammie Cannon.

One of Garden Ridge Lion's newest members. Kerry Ledford (center) was the sponsor with Lion Hunter Bill Foote presiding over the Dec. 2017 presentation. Husband and Lion Windell Cannon is also in the photo.

Hearing Screening:
On Dec 5th, we finished hearing testing for 2017. A total of 32 schools with over 6000 students from Comal & New Braunfels Independent School Districts and a number of parochial schools were covered in this journey. My sincere thanks to each of you (38 volunteers) that participated in this effort. I hope each of you enjoyed working with our future generation of citizens and leaders. I look forward to working with everyone again. Best Wishes for the Holiday Season. Regards, Dick

​
Operation Santa Claus:
A BIG Thank You to all the volunteers that made this Christmas Season special for the 52 less fortunate families in the surrounding area receiving Christmas meals & children's gifts. On Dec. 15, Lions members, spouses, sons, daughters, and grandchildren sorted the food baskets & toys for the recipient families. On Sat. Dec 16, delivery was made to the families homes. This year's Operation Santa Claus leader was Mark DuBois.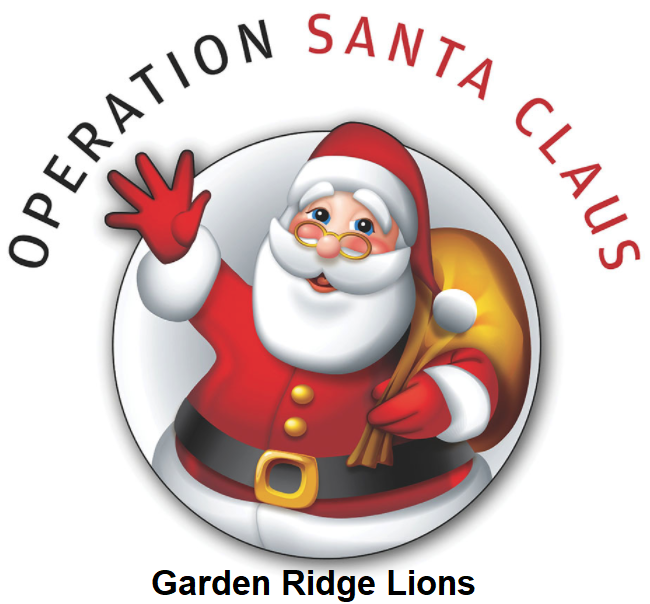 Congratulations to Randy Maschek (10 Years), Jay Feibelman (20 years) and Leon Childers (35 years)
who were presented the Milestone Monarch Chevron to commemorate and recognize their years of Lion service. District Governor John Pruet presented the awards. Not present for the awards presentation were:

John Grigsby (10 years) Brodie Bodenheim (15 years), and Walter Brown (20 years).
Congratulations to all!
Hope Hospice:

The Garden Ridge Lions Club presented a check for $2,000 to Hope Hospice of New Braunfels Tree of Lights on Nov 2.Hope Hospice provides quality, compassionate hospice care to adults & children facing the advanced stages of any life-threatening illness. Chris Sitton - Hope Hospice, Dir of Business Development, Mark DuBois - Garden Ridge Lions Club, Nickie Drummond - Hope Hospice, Executive Dir & JimNewbold - Garden Ridge Lions Club.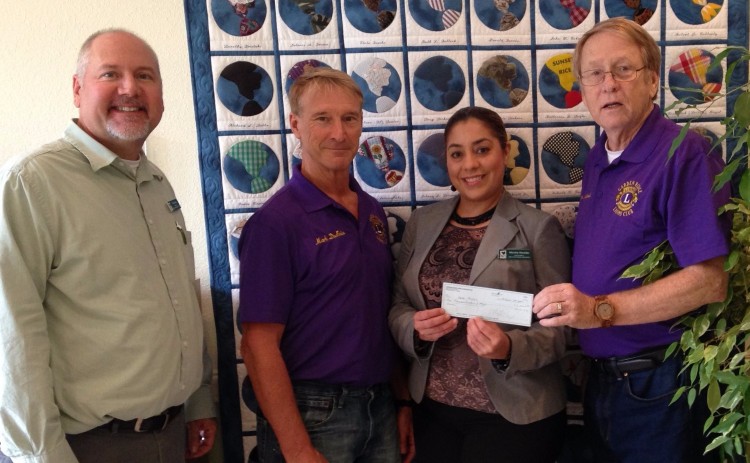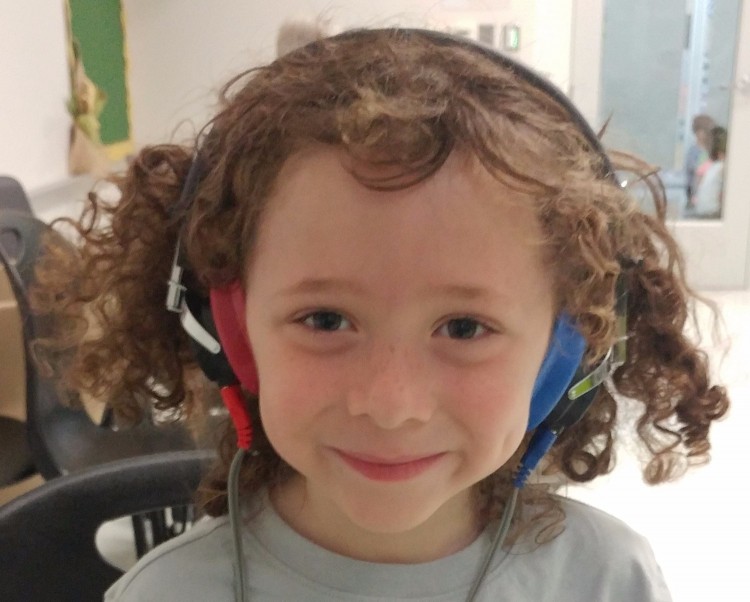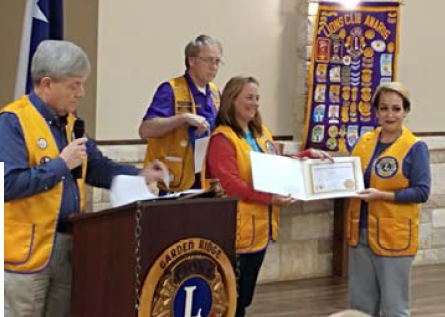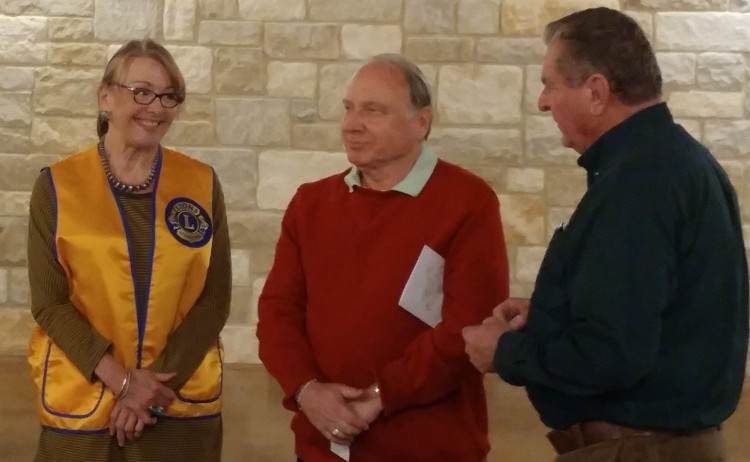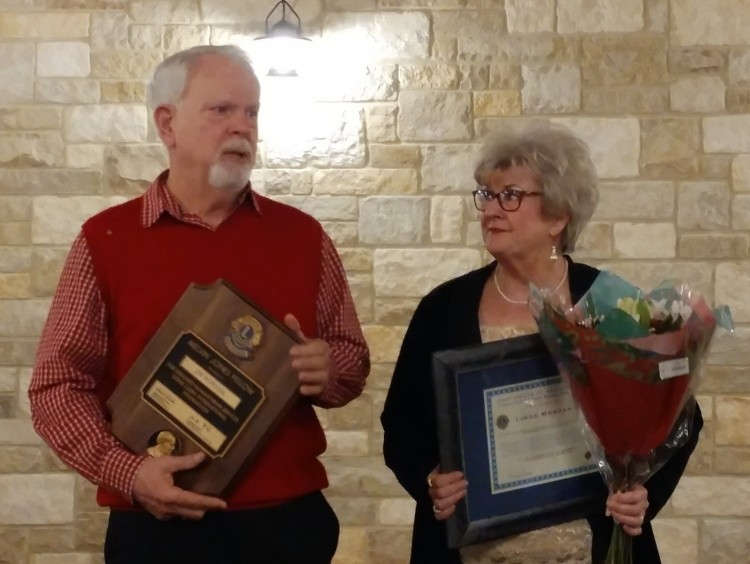 The Garden Ridge Lions annual Christmas Dinner
is a special celebration for a job well done by all throughout the year. On Wednesday evening, December 13th, Garden Ridge Lions, spouses and guests gathered to celebrate the Christmas season.

Annually our Lions Camp at Kerrville holds a series of work days to clean up the Camp from winter and prepare it for summer operation.
The Camp holds 3 work days in the Spring with this year's work days will be held on Sat. March 3rd,Sat. April 7th, and Sat, May 5th. Each workday commences at 7:30 am with a breakfast provided by a Lions Club. Work details on various projects commence at 8:00 am and last until 12:00 noon at which time lunch is served. If necessary work continues after lunch, but in most cases the work projects have been completed by lunch and the participants are released to return home after lunch. If you have any questions please contact me 210-651-7431. Click here for additional information. Regards Dick Holloway





Congratulations to Dick Holloway
who was presented the Lion of the Quarter award by President John Mitzel at the January 10 meeting.

​​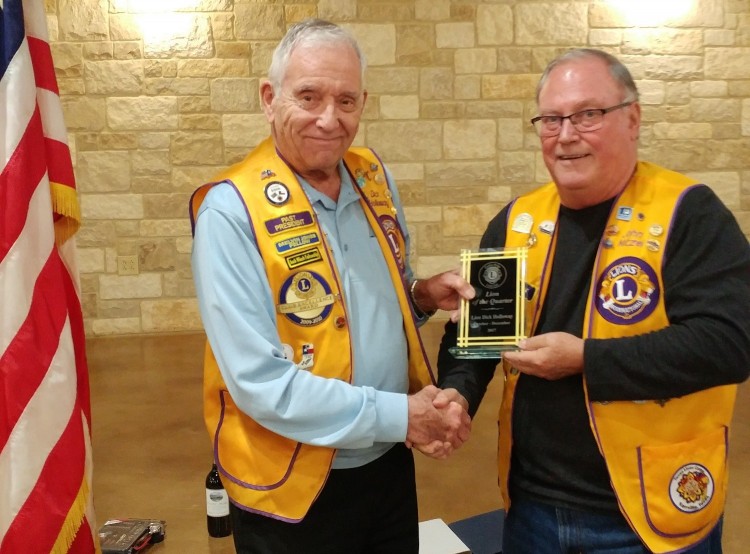 The next Bat Cave Road Clean-up June 30th
. Meet at Paul Davis Park at 8:00 am. Please be sure to wear light colored clothes, reflective vests, sturdy shoes and don't forget to wear gloves. For more information, please contact David Heier 210-651-4255.
​
2018-19 Election of officers:
A motion was made, seconded and approved by the membership to accept the proposed slate of officers at the membership meeting March 14.
​
President Mark DuBois Marketing/Communications Cheryl Banda
Immediate Past President John Mitzel Program Chair Mark Frye
First Vice President Bill Swint Club LCIF Coordinator John McCaw
Second Vice President Ray Pitzen Lion Tamer Vic Rodriguez
Third Vice President Bill Foote Directors:
Secretary Jim Newbold • 2 Year – 2018/20 Jim Morgan
Treasurer Mark Meyers • 2 Year – 2018/20 Larry Smedley
Membership Chair/Lion Hunter Dave Heier • 1 Year – 2018/19 Larry Thompson
Service Chair Mandy Hagy • 1 Year – 2018/19 Dick Vogt
Tail Twister Noelle Czerniak








Eye Exam:

We provided an eye exam for a needy individual at a cost of $117.00


​Resources for Women:

We donated $500.00 to Resources for Women in Garden Ridge.