> HOME
> OUR OFFICERS
> NEWS & EVENTS
> GET INVOLVED
> PHOTOS
Welcome

to the Garden
​ Ridge​Lions Club web site
Since 1917, Lions Clubs have offered people the opportunity to give something back to their communities.
The Garden Ridge Lions Club began its commitment to service over 40 years ago in 1973 and continues today by seeking out all forms of community need and developing ways to serve and satisfy those needs. We have the continued focus of meeting the commitment of all Lions adhering to the motto :

"WE SERVE".
​​
​
The Garden Ridge Lions Charities, Inc. directly supports individual children and families in need with our Thanksgiving and Christmas food baskets and toys at Christmas for children. We also work hand-in-hand with agencies and other non profit organizations. These include Lone Star Lions Eye Bank, Boy's State & Girl's State, Texas Lions Camp Counselor Scholarships, Texas Lions Camp and many other charitable organizations.
​Come and join us....
The Garden Ridge Lions Club is always looking to recruit good men and women with serving hearts and a special passion to help those in need. ​​The club meets on the 2nd and 4th Wednesdays of the month, at 7:00 PM at The Club at Garden Ridge, 21320 Water Wood, Garden Ridge, Texas, 78266.
Our next Garden Ridge Lions meeting is Wed, October 25th with

District Governor John Pruett

present to provide Lion direction and vision.

​​
NOTE:

The November meeting will be on Wednesday, 8 November, 2017, and the December meeting (Christmas Party) will be on Wednesday, 13 December, 2017.
​​

Membership is key! ​ Invite a friend, relative or neighbor to join our club!
​​​
Copyright © 2007, Garden Ridge Lions Club, All Rights Reserved
Garden Ridge Lions Charities, Inc.

is the charitable arm (501c3 Charity) of the Garden Ridge Lions Club.
Charter -
Donations


​​
" Over 40 Years of Community Service "
​

Bat Cave road clean-up:

Mark your calendars for Dec 16. Meet at Paul Davis Park at 8:00 am. and be sure to wear light colored clothes, sturdy shoes and don't forget to wear gloves. contact David Heier - email:

DRHeier@Gmail.com

or by phone 210-651-4255. Click here for additional information.


Upcoming Volunteer Opportunities:​​
​
"Where there is a need, there is a Lion"
​​​
​Listen to Lion Mark Frye on Military Radio USA every Saturday from 8 to 9 a.m. on KLUP 930 AM The Answer Featuring mission and organization focused shows, you will receive Garden Ridge Lion event info. Click here for the website
​​
Donate used glasses

(including sunglasses and reading glasses; sorry no contact lenses), place them in the specially marked Lions Recycle for Sight collection box found at the Garden Ridge Library (9400 Municipal Pkwy, Garden Ridge TX 78266). Click here for additional information

​​

Garden Ridge Lions Fish Fry/BBQ & Auction:

Another Fundraiser come and gone!! It was great watching so many GR Lions working together to pull off a successful venture. Thank you to all who participated in doing all the different things that needed to be done over the past 6 months. Thank you, also, to the hard workers who came on Thursday, Friday, Saturday and Sunday. Carmen McCaw

​​Fish Fry/BBQ & Auction results as reported by Mark Meyers October 12th.
​Total Gross Receipts (ads, sponsorship, donations, raffle sales, etc): $68,615.71
Expenses: $14,660.54
Net Receipts: $53,955.17

While we came up a little short from last year's gross receipts of $72,000+, we surpassed both our currently budgeted ($50,000) and prior year actual net receipts ($50,000+).

Painting the interior of the Garden Ridge Library:

July 27-30 The Garden Ridge Lions, library and city staff plus the local boy scout troop completed painting the Library. My most sincere thanks to all that participated in this somewhat challenging project that at the conclusion looks professionally done. This was truly a group effort. It was my pleasure to work with each of you and complete this project. Lion Dick Holloway project lead.



Congratulations to Mike Goettsch
. One of Garden Ridge Lion's newest members. Mark DuBois the sponsor and Gil Burrell presenter. Mike's wife Amanda and their 3 children Carson. Mason and Tyson watch during the presentation July 2017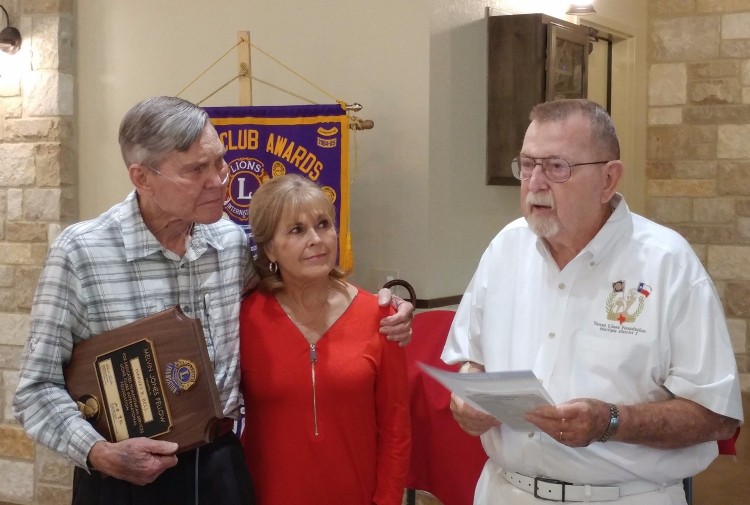 Congratulations to Harvey Bell.
Harvey is the recipient of the Melvin Jones Fellowship Award. This award is the highest form of recognition and embodies humanitarian ideas consistent with the nature and purpose of Lionism. Harvey's wife Nancy is standing next to Harvey. Gil Burrell is the presenter.
Girls and Boys State

Sarah Seates, McKensie Bush, and Robert Palomin attended the July 26th Lions meeting providing insite and gratitude from their experience attending Girls and Boys State. Joan Helmke (right) & John Mitzel (left) presented certificates.
Congratulations to Dave Wilcox.
One of
Garden Ridge Lion's newest members. President John Mitzel sponsor and Lion Hunter Bill Foote presenter Aug. 2017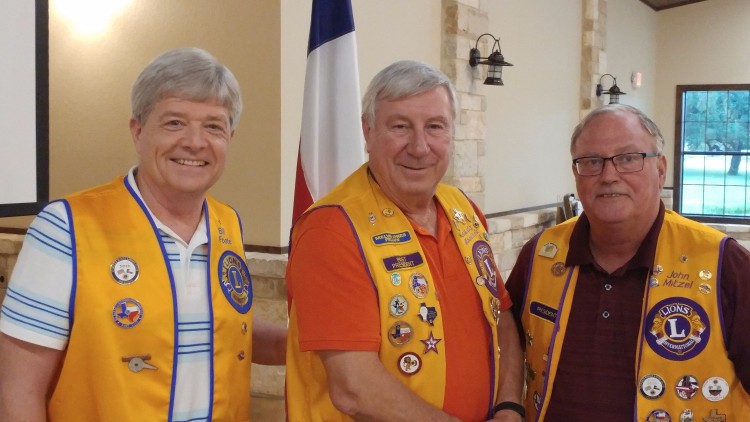 Congratulations to Randy Maschek.
Randy was presented the 'Two Member Key" by Bill Foote along with John Mitzel. The "Two Member Key' is the first Key Award for bring in two new members; the second award is the Five Member Key. Each new member has to remain a member for more than a year. The higher level Key is a 25 Member Key is called the Senior Master Key.
Hurricane Harvey Relief:

THANK YOU to all the Garden Ridge Lion's who helped in the effort to gather relief supplies, manning the donation station for the victims/refugees of Hurricane Harvey. Our Club donated $2,000.00, along with Lions Chuck and Barbara Elia's donation of $100.00, in support of Hurricane Harvey Relief in Texas.


Congratulations to Amanda Hagy.
One of Garden Ridge Lion's newest members. Noelle Czerniak was the sponsor and Lion Hunter Bill Foote presenting Sept 2017
Congratulations to Ed Kennedy.

One of Garden Ridge Lion's newest members. Paul Sullivan was the sponsor with Lion Hunter Bill Foote presenting Sept. 2017



​​RESERVE THE DATE: 11th Annual Lions Club Family Picnic
Date: Sunday, October 29, 2015
Time: 1:00 - 5:00 pm
Place: ​ Paul Davis Park
​
​Games before food served, Food will be served at 3PM
Hamburgers/Hot Dogs/Potato Salad/Cole Slaw/Watermelon - Beer/Wine/Sodas/Water provided
​
We are asking for each family with the first letter of your last name … A thru L to bring an appetizer and M thru Z bring a dessert. Thank you…

Come join us with your families for lots of socializing, fun and food.
Please RSVP to Ray Pitzen: rpitzen@hotmail.com

by Wednesday, October 25.


​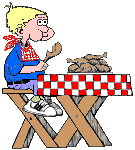 Garden Ridge Lions Thanksgiving Project:
Every year, the Garden Ridge Lions provide Thanksgiving meals to less fortunate families in the Garden Ridge and surrounding area. This year's Thanksgiving project leader is Bill Swint. Bill will be posting volunteer opportunities soon,
Paul Davis Park Clean-up:
Saturday, November 11, 2017. Shelby Trial

(210-651-6726),

with the City Parks Committee, is organizing this event and is looking for Lion volunteers.
Hearing Screening:
Chairman Dick Holloway and 44 Lions and Lion Helpers are executing a new schedule to perform hearing/vision screening of children attending Comal ISD and New Braunfels ISD elementary schools. During September, they have completed hearing/ vision screenings for 11 Elementary Schools; screening over 3,300 children. Lions and spouses from the Garden Ridge Lions Club have conducted hearing testing at the following elementary schools: Memorial, Goodwin-Frazier, Clear Springs, Indian Springs, Veramendi, Arlon Seay, Oak Creek, Seele, Rebecca Creek, Freiheit, and Garden Ridge.