> HOME
> OUR OFFICERS
> NEWS & EVENTS
> GET INVOLVED
> PHOTOS
Welcome

to the Garden
​ Ridge​Lions Club web site
Since 1917, Lions Clubs have offered people the opportunity to give something back to their communities.
The Garden Ridge Lions Club began its commitment to service over 40 years ago in 1973 and continues today by seeking out all forms of community need and developing ways to serve and satisfy those needs. We have the continued focus of meeting the commitment of all Lions adhering to the motto :

"WE SERVE".
​​
​
The Garden Ridge Lions Charities, Inc. directly supports individual children and families in need with our Thanksgiving and Christmas food baskets and toys at Christmas for children. We also work hand-in-hand with agencies and other non profit organizations. These include Lone Star Lions Eye Bank, Boy's State & Girl's State, Elementary School Pantry program, Texas Lions Camp Counselor Scholarships, Texas Lions Camp, Animal Rescue - Feral Cat program, Greater Randolph Area Support Services, Hope Hospice, Resources For Women, Options for Women, and many others. 100% of all funds raised are donated to charitable organizations.
​Come and join us....
The Garden Ridge Lions Club is always looking to recruit good men and women with serving hearts and a special passion to help those in need. ​​The club meets on the 2nd and 4th Wednesdays of the month, at 7:00 PM at The Club at Garden Ridge, 21320 Water Wood, Garden Ridge, Texas, 78266. (except the Nov and Dec; meeting held the 2nd Wednesday only).
Our next Garden Ridge Lions meeting is Wednesday, April 26th. At this meeting, we will be presenting College Scholarships to 12 deserving local High School students.


​​

Membership is key! ​ Invite a friend, relative or neighbor to join our club!
​​​
Copyright © 2007, Garden Ridge Lions Club, All Rights Reserved
Garden Ridge Lions Charities, Inc.

is the charitable arm (501c3 Charity) of the Garden Ridge Lions Club.
Charter -
Donations


​​
" Over 40 Years of Community Service "
​

Bat Cave road clean-up:

Date to be determined. Meet at Paul Davis Park at 8:00 am. and be sure to wear light colored clothes, sturdy shoes and don't forget to wear gloves.

contact David Heier by email: David.Heier@va.gov or by phone 210-651-4255

. Click here for additional information.

THANKS to everyone who volunteered for the Jan 28th road clean-up!




Upcoming Volunteer Opportunities:​​
​
"Where there is a need, there is a Lion"
Lion of the Quarter
Oct - Dec 2016
Ray Pitzen
Lion of the Quarter
Jan - March 2016
John Mitzel
Double click here to edit this text.
Lion of the Year
2015 - 2016
Carmen McCaw
Lion of the Quarter
July - Sept 2016
Larry Smedley
​​​
​Listen to Lion Mark Frye on Military Radio USA every Saturday from 8 to 9 a.m. CST on KLUP (930 AM The Answer). In addition to mission and organization focused shows, you will receive Garden Ridge Lion event information. Click here for the website
​​
Donate used glasses

(including sunglasses and reading glasses; sorry no contact lenses), place them in the specially marked Lions Recycle for Sight collection box found at the Garden Ridge Library (9400 Municipal Pkwy, Garden Ridge TX 78266). Click here for additional information

Congratulations to Chuck Elia
who received a 35 year Longevity Chevron from Lions District Governor Mike Smith

Connect with friends, family and other people you may know on the

Garden Ridge Lions Facebook page
Hearing Schedule Volunteer needed:

​Dick Holloway is looking for a volunteer to work with him on the development of the hearing schedule for the 2017. Contact Dick

[rehhardwood@earthlink.net]

if interested. In 2016, 47 Lions and spouses conducted hearing testing at 32 schools within the New Braunfels and Comal County ISD's. Over 7000 students were tested.



Congratulations to Mike and Tonya Heath.
Garden Ridge Lion's newest members. Bill Foote, Lion Hunter, presenting and Albert Haddad, sponsor.

Garden Ridge (GR) Lions donate to Hope Hospice:
From L to R: Randy Maschek, Past President, GR Lions Club; Kathleen Krueger, Development & Communications Coordinator, HOPE Hospice; and Jim Newbold, GR Lions.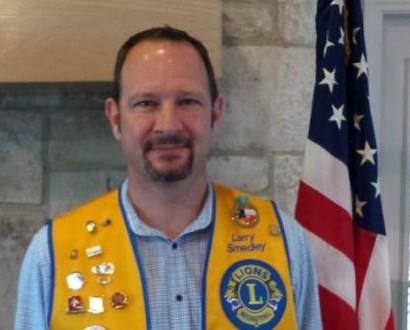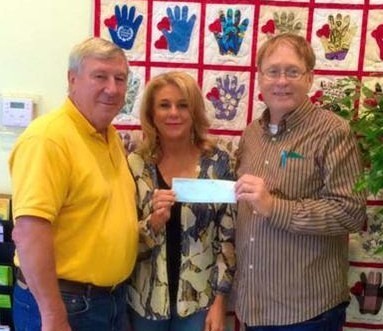 Texas Lions Camp

enrollment

began Jan. 3, 2017. It's not to late for Lions to reach out in the community and make prospective campers and their parents aware that they can sign-up online at www.lionscamp.com. As you probably know, the sessions for children with Type 1 diabetes fill up fast, so it's especially important to promote early registration.

Annual Kerville Lions Camp work day(s)

volunteer opportunity to clean up the Camp from winter and prepare it for summer operation. The next work day event will be held on

Saturday, May 6th.

The workday commences at 7:30 am with breakfast provided by a Lions Club. Work details on various projects commence at 8:00 am and last until 12:00 noon at which time lunch is served.

ACTION:

​​I ask that you consider participating in this effort.
​(e-mail:

rehhardwood@earthlink.net

or phone 210-651-7431). Thank you, Dick Holloway.





Nineteen Garden Ridge Lions, Scouts and volunteers participated in the

April 1 Lions Camp work day in Kerrville

. Our project was to paint the masonry exterior walls of the Well House. The participants were Jim Anderson, Todd Arvidson, Tristan Arvidson (Scout), Markus Anderson (Scout), Noelle Czerniak, Joey Czerniak (Scout), Mark DuBois, Al Haddad, Dave Heier, Dick Holloway, Greg Loser, John Mitzel, Richard Morman (Volunteer), Daniel Morman (Scout), Jim Newbold , Ray Pitzen, Larry Thompson, Larry Steele, and Dick Vogt. My sincere thanks to all involved in this most worthy project. Regards, Dick Holloway. Click here to see photos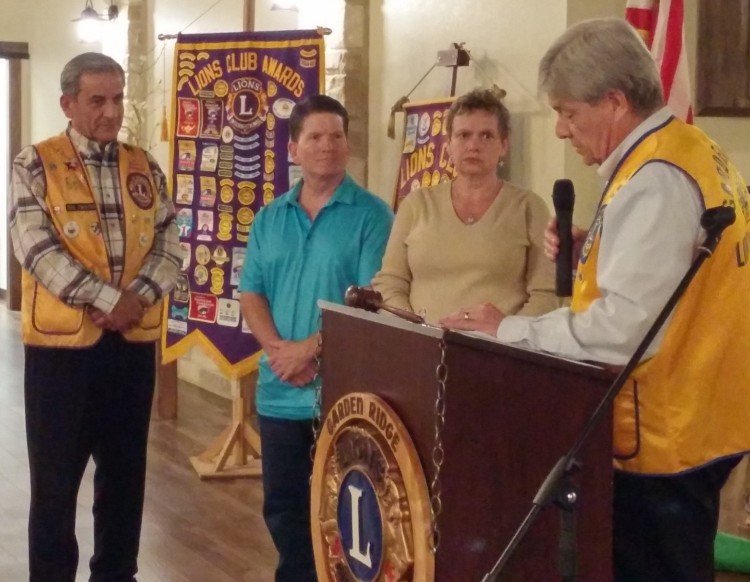 The 2017 District 2-S3 Convention

will be held in Manor, Texas on Saturday, May 13th. The convention kicks off at Manor High School starting at 7:30 am. Breakfast Tacos will be available. Scheduled activities begin with the Opening Ceremony at 8:25 am followed by a meaningful Memorial Service to recognize our departed Lions presented by the Garden Ridge Lions Club and then the Featured Speaker. Please plan to attend.
Girls and Boys State:
We are supporting 3 HS Seniors to attend this year's Girls State in Seguin and 4 HS Seniors to attend this year's Boys State at the University of Texas, in Austin. It takes $425 to support each girl and $295 for each boy. Girl and Boys State is intended to educate our youth in the duties, privileges and responsibilities of American citizenship; give future citizens, in a realistic manner, an opportunity to learn the problems of government by performing the same duties as real office holders in the everyday world; inform them of the rights and privileges of American citizenship; and instill a deep sense of the personal responsibilities and obligations which this citizenship entails.
Lone Star Lions Eye Bank:

The GR Lions is donating $100 to the LSLEB to help purchase a new Eye/Cornea refrigeration unit.
​
​

Leader Dogs:

The GR Lions donated $400 to the Leader Dogs for the Blind Program.
​
​

"Where there is a need, there is a Lion"

Local Tornado Damage: On Fri and Sat, Feb. 24-25; GR Lions, Todd Arvidson, Bill Swint, Dick Holloway, Jim Newbold, John McCaw and Dave Heier cut-up and hauled away downed trees from the storm helping our neighbors in need.
Lone Star Books:

We donated $243.00 to the Garden Ridge Library to purchase the Lone Star Book series for the library's children reading program
Hearing Aids:

We donated $250.00 to Aileen Mojica for loaner hearing aids.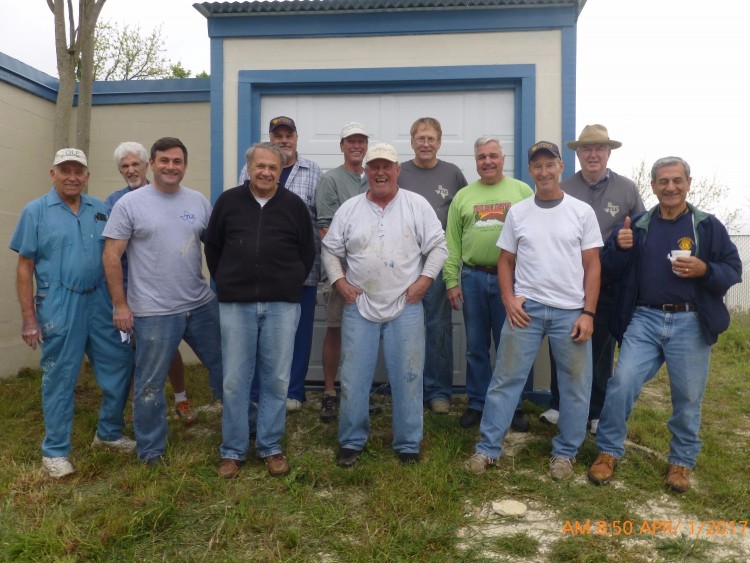 Lion's Den UPDATE:
On April 22-23, the old carpet in the Lions Den was removed and replaced. Thanks to everyone who helped Saturday and/or Sunday.

Click here to see photos taken at the Melvin Jones Lions International Memorial at Fort Thomas, Arizona....plus read some of the history associated with Melvin Jones' Birthplace.

​​Photos taken by Lions Robert Balch and Nadine Knaus, Garden Ridge Lions Club.